Outlandish Flavours
It's our continuing endeavour to ensure our menus offer only the freshest and finest ingredients. The way we accomplish this is by working closely with local harvesters, foragers, farmers and fishermen.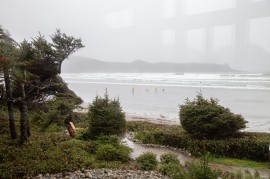 Some of the most popular items on our menu come from the Pacific Ocean, just outside our windows. It's no secret, people come from all over the world to taste West Coast seafood. We proudly look to the Outlandish Shellfish Guild to help us create your favourite menu offerings and we are fortunate to have access to fresh ingredients all year round.

The Guild is a great example of communities coming together. Eight family-run shellfish farms harvest and supply oysters, clams, mussels and scallops from the central, East Coast of Vancouver Island. The Guild has been a Long Beach Lodge Resort partner since the beginning and we can't thank them enough for their continued support, great customer service, and high quality products. You can taste the freshness and the heart of the business in every bite!

Enjoy scallops, clams, oysters, and mussels on our current Lunch, Apres Surf, and Dinner menus!


Ps. We are so excited to hear that the Annual Clayoquot Oyster Festival is returning! Mark your calendar for November 23, 2019 to celebrate the bounty of the West Coast. This year's event at the Tofino Community Hall will include all you can slurp oysters, tastings dishes, dancing and a sea themed dress code (of course this is optional).

---
Learn more about our featured supplier: http://outlandish-shellfish.com/


---
More Tofino 360 Stories