Welcome to Long Beach Lodge Resort
Since opening our doors in 2002, we are proud to have become a favourite West Coast retreat and are known to be a one-stop, world-class destination for relaxation, dining, and adventure.

Long Beach Lodge Resort is perched on the edge of the Pacific Ocean. Our luxurious boutique resort offers 41 lodge rooms and 20 quaint cottages tucked beneath the trees. Upon our 8 acres of oceanfront rainforest property, you'll feel immersed in the West Coast wilds, while only 7km south of downtown Tofino.




Meet the Family
Introducing our 2022 team! We've got a wonderful crew of return staff and new-comers ready to welcome you to our paradise on the Pacific! With vast experience in hospitality from around the globe, our team is experienced and capable of ensuring your stay is one to be remembered!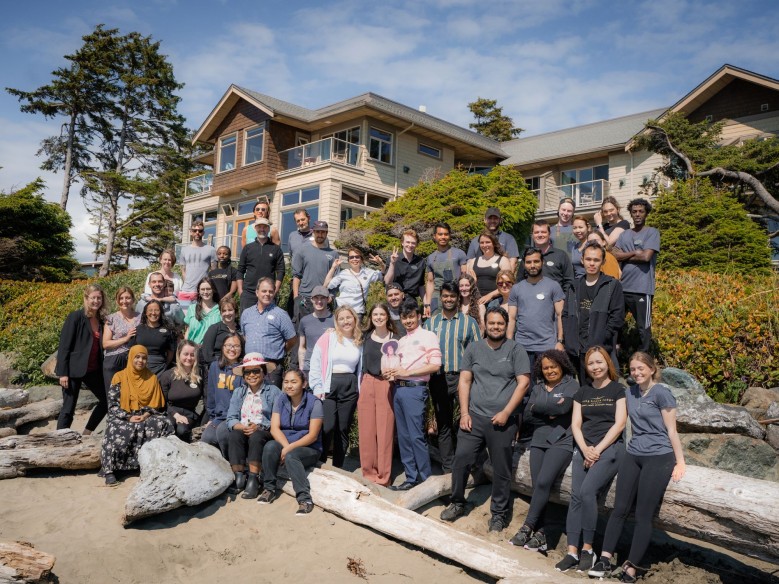 A Boutique Resort
The Resort was designed and constructed to resemble a grand West Coast style residence. The interior design concept was to evoke feelings of warmth and familiarity, as though you have just arrived at a friends home. We accommodate guests and groups in our various room styles within the main lodge and in our private rainforest cottages. With Guest Services available 24hrs a day, we ensure a comfortable and restful stay.
Lodge Rooms

41 guest bedrooms (pet-friendly rooms available)

Business Centre: located on the first floor

Pop & Ice Machines: located on the first floor

Rainforest Cottages

20 two-bedroom Rainforest Cottages with full kitchens, dining & living area with fireplace, two bathrooms and outdoor hot tub

pet-friendly cottages available
The Experience
Dining at Long Beach Lodge
Here at the Resort, we have many ways for you to enjoy a culinary experience. From the Great Room to take-out, our team is serving up fresh and seasonal dishes from brunch to dessert. Check out our 3 on-site dining locales featuring their own unique menus:


The Great Room


A gathering place designed as an extension of your room. Find your friends by the granite fireplace or taking in the panoramic views.

The Surf Club


Welcome to your surf headquarters! The Club features a pool table, coffee and snack bar, licensed lounge and more.

The SandBar Bistro


This is our ultimate seaside patio. Just steps from the beach, you can sip on something cold while checking the surf.
Choose Your Adventure
Allow us to facilitate the holiday of your dreams. Whether your ultimate getaway includes action and adventure or absorbing the tranquility of the Pacific Rim, we've got you covered. Our Guest Service Representatives are committed to ensuring your visit feels easy and personalized.


Join the Surf Club, your one-stop shop for all things swell. Home to our hot tub, cedar sauna, gym, and change facilities, this casual hub offers a pool table, licenced lounge, and all your lesson and rental gear under one roof. Learn more...
Sitting in the Great Room listening to some great music and watching the sunset was one of my top ten magical moments. Long Beach has lived up to all my expectations.
Krishna - Bristol, England
Our Amenities
Cozy accommodations

On-site Surf Lessons & Rentals

Outdoor Surfboard Storage Lockers

Seaside Shower for Boot & Suit Rinse Off

Amazing Indoor & Outdoor Dining Options

High Tide Propane Fire Pits & Lounge Chairs

Hot tub & Cedar Sauna

Business Centre in the Lodge

Immaculate Multi-Function Room for up to 50 people: The Rainforest Room

Covered BBQ Gazebo

Prime Parking

Electric Vehicle Charging Stations

World-class Guest Services available to assist 24hrs/day

Pop & Ice Machines: located on the first floor

Complimentary Raingear

Lobby Gift Shop Featuring Sustainable Products
---
"You can travel to beach resorts in Italy, Greece, Florida, the Caribbean, the Outer Banks, Newport R.I., Bar Harbor Maine, California or the Great Lakes, and none of those would compare with the Long Beach Lodge. The ambience is relaxed, while the facility is immaculate and the food is superb. The staff, all of whom seem to be under 30, somehow manage to provide perfect service while at the same time appearing completely at ease. Upon checking in, my wife and I, along with another couple, pulled up with a significant amount of luggage. A half-dozen of the "kids" that work there, obviously all off-duty, happened to be walking by, asked if we were checking in, and each grabbed a bag or two, delivering them ultimately to our rooms. If I could figure out how a grumpy old trial lawyer from the mid-west could make a living there, I might just re-locate."
Trip Advisor Review