Sustainability is a journey and not a destination
Long Beach Lodge Resort believes in - and acts on - the philosophy that it's all of our responsibility to leave this planet in better shape than we inherited it.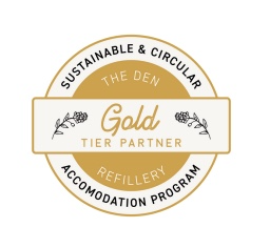 All resort operations, from construction to guest relations, are guided by the principle that we must continually adapt and improve our practices in order to minimize our impact on the environment. Where you will see this reflected at the resort are in the supplies we purchase, the food we serve, and the ways in which we conserve. Becoming a green hotel is ongoing, we consider our efforts only part of a long and evolving journey, forever striving to be better than we were yesterday.



Initiatives Around the Property...

Electric Vehicles: We recently switched our on-site laundry and maintenance gas-powered vehicles to electric vehicles.
We've joined The Den: Quality Goods & Refillery's Business Refill Program for many of our bath and cleaning products. Learn more about the natural and local products that are now being used around the property. This initiative keeps thousands of plastic bottles from the landfill!
Eliminated plastic cutlery as part of the Surfrider Foundation's 'Cut the Cutlery' Campaign
Two electrical vehicle charging stations
Use LED light bulbs
Wetsuit Recycling at the Surf Club with Shred Neoprene
Ban the Bag at "Checkout": The Great Room & Surf Club no longer offer plastic bags.
No styrofoam used
No plastic picks
No straws
Our commercial laundry uses dryer balls replacing single use dryer sheets
Only compostable waste bags used
Full recycling system in conjunction with Sonbird (recycling depots in Ucluelet & Tofino)
Composting throughout the property
No more plastic water bottles

TerraCycle

pen & utensil recycling
Water Conservation
Tofino, like the rest of British Columbia, is faced with the on-going prospect of declining rainfall and warmer temperatures. This is especially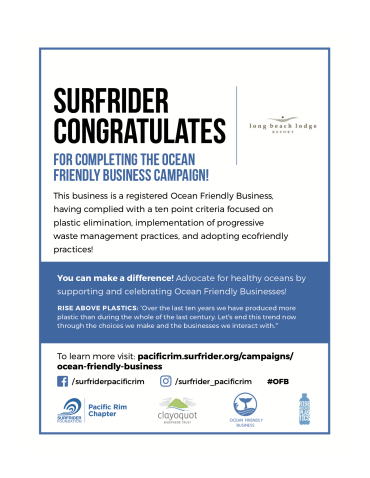 pertinent in Tofino where we look to the skies for most of our water as our water supply comes almost exclusively from a rain, creek and river-replenished reservoir.

Water: Being Prepared and Responsible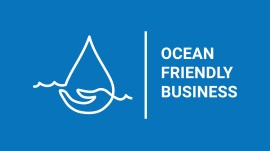 The Resort recognizes and endorses efforts and innovations that ensure there is enough water throughout the year. The Long Beach Lodge Resort Sustainability Committee includes representatives from every department at the Resort. The Committee meets every month to discuss Resort's water conservation activities and progress and debate new management ideas and activities, such as capturing rainwater and grey water in holding tanks for use in toilets and laundry facilities. Innovations such as this allow incremental savings that can add up to big benefits for the environment, residents and visitors to Tofino and Pacific Rim National Park Reserve.
Rooms Division
Long Beach Lodge Resort's housekeeping department through creative, collaborative planning has also adopted a number of measures meant to conserve water, energy and resources and meet a sustainability mandate. These measures include:
Optional linen service for guests during their stay.

Providing recycling & compost bins for guest in all rooms and ensuring the entire Resort uses instead of waste only.

Reducing packaging waste when possible while encouraging suppliers to reduce their packaging.

Ensuring housekeeping turns off thermostats and lights when rooms are not occupied.

Replacing old appliances, when possible, with Energy Star-rated items.

Use of non-aerosol products only.

Using The Mint (Ucluelet based company) cleaning products – some of the most environmentally advanced and effective cleaning, sanitation and infection control products available along with innovative cleaning tools and professional equipment.

All guest room mattresses are Restwell/Spring Air mattresses. Restwell aggressively administers recycling programs, recycling 100% of scrap cardboard, plastic, and wood which in turn eliminates a large amount of waste. In addition, all excess foam, fabric, and fiber from Restwell's quilting machines is compressed and turned into a variety of new goods such as pillows and dog beds. In terms of mattress materials and composition, all use soy based foam, locally sourced on B.C.'s Lower Mainland and manufacture own pocket coil innersprings from high tensile strength steel supplied from Delta BC. All wood used in the mattresses is BC-sourced and Restwell then replant trees for all of the wood/paper used.

Working with west coast recycling depot to make sure our recycling is clean and able to be recycled.

Regular sustainability check-ins to plan ahead and chart progress
Housekeeping staff approach daily tasks with a "clean green" attitude. Success is reflected in great indoor air quality, a healthy setting to work in and visit, and a resort existing in concert with the Tofino and Pacific Rim environment.

Conservation Starts at Home
Visitors to Long Beach Lodge Resort are encouraged to reuse towels and bed linens through the Resort-initiated "Every Drop of Water Counts" campaign. Guests are learning that there are many subtle changes such as these that are not very impactful on the quality of their visit but can make a big difference on the environment. Ultimately, the hope is that our awareness campaigns and water conservation tips are used by visitors when they return home.


Food & Beverage
Long Beach Lodge Resort takes sustainability seriously and integrates innovative, common-sense conservation procedures and techniques into many areas of the Resort's award-winning kitchen. Some of the inventive processes he has recently introduced to the Resort's kitchen include:
Kitchen water use for example the saucier reuses crab pot water to blanch clams

In the spirit of efficiency, all hand washing sinks have been fitted with hands free, on-demand systems that run only when hands are beneath and being washed.

To reduce water and ice (a big challenge in the restaurant industry) the Resort kitchen is now using Foodsafe reusable freezer packs for shellfish storage. This saves water and ice while keeping shellfish remarkably fresh.

To conserve the water that would otherwise run down the drain, a jug is kept under the faucet and the otherwise wasted water used when needed.

All Resort coolers are now air cooled. This means potable water to cool machines is not required.
Conservation in the Community
Long Beach Lodge proudly supports many local organizations through funding and action. Current onsite programs in partnership with the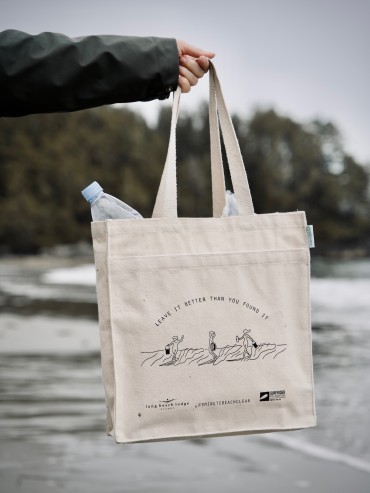 Surfrider Foundation Pacific Rim Chapter are:
Love Your Beach Clean Program
Complimentary canvas bags in every room to inspire participation in Surfrider's #5minutebeachclean campaign. Debris tracking will help global organizations analyze and manage ocean debris and its sources.
The Housekeeping Beach Clean Team donates 3 volunteer hours with Surfrider during Rip Curl Pro beach clean up & (Multi-Use Path) MUP cleanup.

We're Strawless
In support of Surfrider Foundation's mission to minimize single-use plastics, we have proudly eliminated the use of straws from our food and beverage program. A 100% biodegradable straw option is available upon request.

"Hold Onto Your Butt Campaign"
In coordination with Surfrider Pacific Rim, the resort has specially designed canisters placed around the property for collecting cigarette butts, which are then properly disposed of - keeping butt's out of our oceans and storm drainage systems.
Sustainability Fee Program
Tofino has become a well-loved, year-round destination for visitors from around the world looking to experience Vanouver Island's spectacular West Coast. Our small township is home to just 2,500 permantent residents, and we share our destination with approximately 600,00 visitors annually!

Uniquely situated within a UNESCO Biosphere Reserve, we welcome visitors to experience the majesty of the old-growth forests, the power of the Pacific Ocean and learn from 5,000 years of Tla-o-qui-aht First Nations' history. We also need to ensure the land is sustainably managed and that the infrastructure is in place for future generations.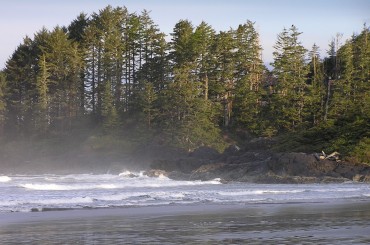 Coming Togehter For Sustainable Tourism
In 2021, the hospitality community formed the West Coast Hospitality Association (WCHA). The WCHA is a member-based, not-for-profit organization committed to our region's environmental, social and economic well-being. It comprises accommodation providers, vacation rentals, campgrounds, RV parks and other businesses that rely on sustainable tourism for their livelihoods.


Responding to a Unique Challenge
Working together, the WCHA recognizes the need for new revenue streams beyond the small tax base and regional government funding. The Sustainability Fee Program is a forward-thinking, long-term solution to help support the capital infrastructure projects and services needed to sustain our comparatively large visitor base.

As of January 2023, we and other Association members have implemented a 1% Sustainability fee for all tourism overnight accommodation bookings.


Accountable for the Future

Once sufficient funding levels have been achieved, anticipated to be in early 2024, initiatives will begin to be reviewed and considered for financial support. Specific funding and projects will be posted here on the website as they become confirmed. We are open to visitor-suggested projects, and thank you for your support.