Happy Holidays from Tim & Diane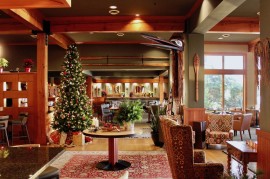 At the resort, we are excited to be getting ready to welcome our guests for yet another special holiday season. Outside, Christmas lights will welcome guests and inside the lodge will be beautifully decorated and a fire will be crackling in the Great Room hearth to welcome one and all.


Chef Shaun will be preparing succulent holiday feasts and our bartenders will be creating some imaginative cheer. Here at the Resort, whether choosing a beachfront room or a cozy cottage, the holidays feel magical. While Christmas is nearly fully booked, there is still availability for New Years. New Year's Eve is a really special time at the Lodge, featuring live music during a wonderful buffet dinner and, of course, our incredible fireworks show on the beach. If you have not experienced part of the holidays with us, you should really consider a visit this year.
While we have always been, this year we have officially branded our property as a BOUTIQUE RESORT to distinguish ourselves from other properties and to highlight what we offer. A boutique hotel is a unique, upscale property with a cozy, home-like atmosphere. They offer special services and amenities not common in the industry. But a boutique resort is much more than this, it offers a personalized approach to every guest through special, distinctive and memorable resort experiences. To be fully rated as boutique, we have appointed Trevor Peulen as our GUEST EXPERIENCE MANAGER, with the sole responsibility of welcoming guests and assisting them during their stay. Many guests already know Trevor and his friendly, helpful service, as he was previously our Front Desk Manager.
Samantha McCullough, our Sales Manager, and her team have welcomed many guests this year for special family occasions including weddings, special birthdays, anniversaries and reunions. She has also organized many corporate retreats; the shoulder seasons are a great time for such events.
Pacific Coastal Airlines, offering scheduled service to Tofino, has been helpful in bringing corporate clients quickly and safely to the resort. We constantly receive rave reviews from guests and groups informing us how wonderful their event was.

We would like to thank again this year, both our longtime returning guests and indeed our first time visitors. Through your patronage, we are able to employ 80 full time and 20 part time employees. Our wonderful young staff are building careers and some are purchasing homes and starting families. We are also privileged to be able to give back to many of our deserving community causes. We are incredibly grateful to our guests for allowing all this.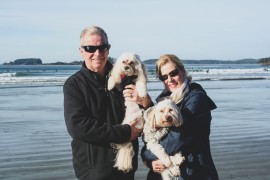 Our very best wishes for the holidays and the New Year. Welcome to the twenties!

Tim and Diane Hackett




---
More Tofino 360 Stories