"What's in Your Fridge?" | Episode 2
Welcome back to the food series that's helping you take your home-cooked meal to the next level. Looking for some supper-time inspiration or creative ways to use what you have on hand? Chef Snelling has created another delish dish with ingredients easily found at your local grocer or already in the fridge. This recipe will serve and impress a safety-distanced party of four!


Tonight's feature:
Lemon Spiced Chicken With Greek-Inspired Rice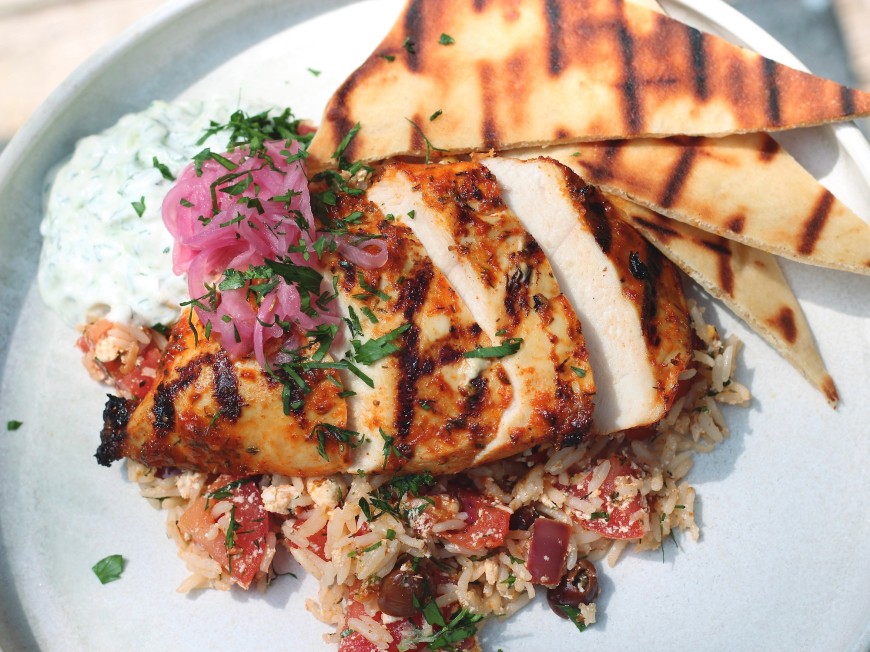 What you'll need...
Chicken
Boneless skinless chicken thighs or breast

Marinade: (let the chicken marinate for 1 – 4 hours)
2 tsp - smoked paprika (whatever you have)
2 tsp - mustard powder
1 tbsp - dried dill (or fresh)
1 tbsp - dried oregano
1 lemon - zested and juiced
1 tbsp - honey
1 tbsp - chopped garlic
2 tsp - garlic sambal (could use other hot sauce or nothing if preferred)
2 tsp - smooth dijon mustard
3 tbsp - olive oil

Add all ingredients in a bowl making sure to mix them well, pour over chicken, and let marinate. Grill on medium-high for 4-5 minutes a side or until chicken reaches an internal temperature of 165F

Rice
1 cup dried rice of your choice. For this recipe, I used basmati.

Follow directions on the package. Once the rice is cooked hold warm (you could also use up leftover plain rice if you have).

Seasoning For Rice // Added After The Rice Is Cooked.
2 – roma tomatoes diced (or whatever tomatoes you have)
½ - red onion small dice
1 tbsp - minced garlic
1 lemon – zested and juiced
¾ cup – chopped pitted kalamata olives (could sub with black or other olives you have)
1 cup - crumbled feta
2 tsp - dried oregano
1 tsp - smoked paprika
1 tsp - mustard powder
2 tsp - sambal or hot sauce optional
2 tsp - salt
2 tbsp - fresh herbs (dill, basil, parsley whatever you prefer)
Sweat off onions, garlic and then add spice and toast for about 1 minute. Add tomatoes and olives into the pan and warm slightly. Next transfer all ingredients to a large mixer bowl, add your rice and the rest of your seasonings.

Tzatziki
1 cup - greek yogurt
2 tsp - minced garlic
¾ cup - cucumber grated and salted (about half a large cucumber)
1 tbsp - fresh dill or dried if you don't have
1 tbsp - olive oil
2 tsp - lemon juice
2 tsp - salt
Grate cucumber, add salt and place in a strainer and let sit for 30 mins. Squeeze out liquid from cucumber and mix with yogurt and other ingredients

Pickled Onions (optional)
½ - red onion thinly sliced
½ cup - red wine vinegar
1 cup - water
1 tbsp - sugar
2tsp - salt

Slice onions thin, with a knife or mandoline, and set aside. Place all other ingredients in a small pot and bring to a boil. Once boiling, add onions and cook for 30 seconds. Let cool at room temperature and then place in the refrigerator. The onions we keep for weeks and are a great addition to salads, tacos and wraps.
Enjoy!



---
More Tofino 360 Stories