"What's in Your Fridge?" | Episode 1
Tired of the same old standbys? Chef Snelling has created a delicious dish with ingredients you'll likely find in the home pantry. Bust out the gravy pack and dust off the potato sack, because tonight, we're taking dinner to the next level. Welcome to "Cooking in Quarantine ", elevating the home-dining experience using only what you can find in the fridge!


Tonight's menu feature:
Baked Pork Chops in Mushroom Gravy with Parmesan Scallion Potatoes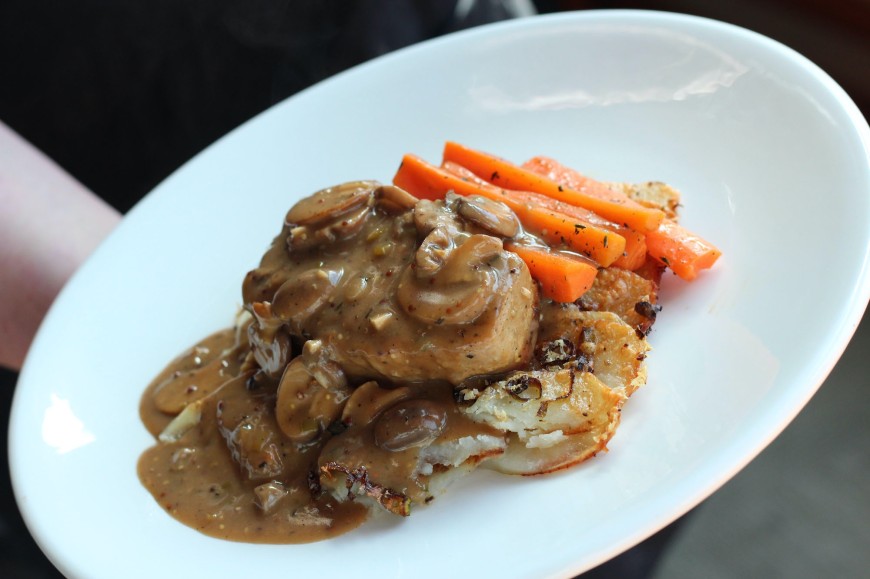 What you'll need...
Protein
2-4 boneless pork chops (substitute chicken breast or thighs)
Parmesan Scallion Potatoes
3-4 - large russet potatoes peeled (can use any potato)
¼ cup - unsalted butter (sub olive oil if you want)
3-4 - stalks green onion sliced (save white part for sauce)
2 tsp - minced garlic
½ cup finely grated parmesan (can sub asiago, cheddar, goat cheese whatever you got)
Mushroom Gravy
1 cup - sliced crimini mushrooms (any mushroom will do)
2 tbsp - chopped green onion bottoms (white part of green onion)
1 tbsp - minced garlic
1 can - Campbell's mushroom soup (low sodium)
1 tbsp - grainy Dijon
2 tsp - soy sauce
2 tsp – dried thyme
1 tbsp – peppercorn gravy powder (any powdered gravy will work)
½ cup – water
2 tbsp – medium-dry sherry or white wine (can omit but adds extra flavor)

The how to...
Pork and Gravy
Preheat oven to 450F for 40-45 minutes or 350F for 1 hour then broil for 5 mins on high
Recipe: pat pork chops dry and season with pepper, heat pan with oil until it's hot, sear pork chops both side until golden (approx. 1 min each side), remove pork from pan and add butter and sliced mushrooms, once mushrooms have a bit of color add garlic, add dried thyme and green onion - continue to sauté, deglaze with sherry or white wine, cook out until pan is dry, add water, mushroom soup, soy sauce, dijon, and powder gravy, stirring as it comes to a boil, place pork back in pan and cover and cook for 20 mins to 1 hour 20 mins based on preference.

Parmesan Scallion Potatoes
Add garlic to butter and melt, peel and slice potatoes, layout potatoes on a pan, season, drizzle with garlic butter, top with green onions and parmesan, place in oven and cook until golden brown.

We look forward to hearing how your dish turned out and what substitutes you introduced based on what you found in YOUR fridge. Take care out there!

---
More Tofino 360 Stories