Spring Into Attraction
Spring in Tofino amounts to abundance: fresh harvesting, events and festivals, sunshine and sightseeing! Plan your stay around local festivities, fair weather adventures, and end of the road attractions.



Our culinary team has been busy preparing a series of special dishes in celebration of some local festivals. Sample something new this Spring at one of the following upcoming events:
April 26 - May 5 //
Feast Tofino
- Is a favourite foodie event hosted in collaboration with Tofino's many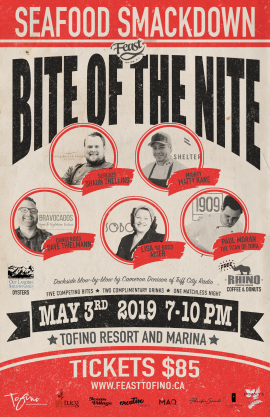 amazing eateries. This year, Long Beach Lodge will be participating in the tasting event, A Bite of the Night. Our team will be presenting a sustainable seafood creation to compete for top taste. Enjoy oysters, libations, and a true boat to table experience on the docks.
Get your tickets
here
.
May 3 - 5 // Shorebird Festival
- This annual festival is a hoot among bird lovers and coastal visitors alike. Whether you're a seasoned spotter or just spreading your wings, there are events for all levels and ages.
Once again, Long Beach Lodge Resort will be hosting our annual Birder's Breakfast to kick-start your weekend of birding, art, and adventurous activities. Join us in the Great Room May 4th & 5th to peck on some delicious brunch features and observe from the Great Room perch overlooking Cox Bay.
No tickets required.
June 7 - 9 // Tofino Food and Wine Festival
- In celebration of the 2019 Tofino Food & Wine Festival, we will be hosting a winemakers dinner alongside winemaker Ian Baker and Sea Star Winery owners David Goudge and Mark Anderson. Chef Snelling will be creating a 6 course dinner, perfectly paired by our honoured guests. Contact
Events@Longbeachlodgeresort.com
for tickets ($120 per person + tax & gratuity).
---
More Tofino 360 Stories