On the Coast of Somewhere Wild w/ Capt Josh
What does it mean to be an islander? When referring to my own roots, I've always held a sense of pride in sharing my coastal connection. I don't mind the "Van Isle" or "Tofitian" stereotype and perhaps even gently permit the assumptions many people have of 'island folk' as being laid back, outdoorsy, and fearless of a little cold water.

When the compass points to the ocean in all directions, it becomes part of you in some way or another. For many of us, it becomes everything.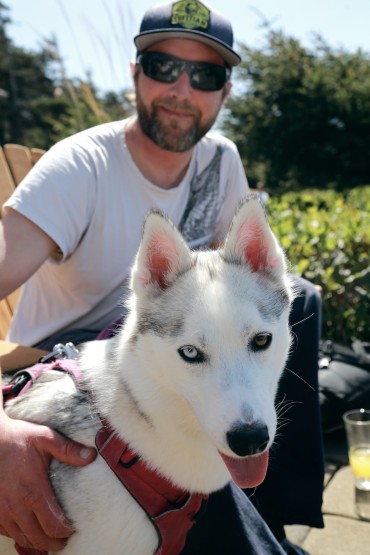 Captain Josh Lewis exemplifies an "island boy". Like me, he made his way from one small seaside town to another, landing in Tofino in 1999. Following a path to adventure and eventually, once again, stepping on a rocky shoreline. I met up with Josh to learn more about how he ended up here like so many others and how he came to be the Lead Driver of the Blue Pearl, Long Beach Lodge's twelve seat, welded aluminum tour boat.

As he makes his way up the path from the beach, I notice he's sporting some local style: a Pina t-shirt, a Tofitian-branded ball cap, and a cute dog in tow. I'm introduced to Astra, his husky-cross with two different coloured eyes and too much fur for this freakishly warm spring day.

We begin to chat about the weird weather and the wildlife viewing from the SandBar Patio and agree that this corner of the world is a rich and bountiful paradise for nature lovers. Tofino and the surrounding areas are full of daily teaching moments and continue to spur curiosity with every lesson.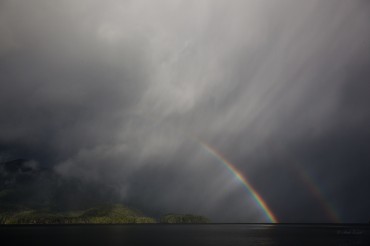 The years have taken Josh all over the world but the Canadian coastline always drew him back. It's this waterfront where, from a young age, he subconsciously studied ecosystems and wildlife behavior, recognizing patterns and rhythms of nature. In a desire to learn more about this special part of the world he now calls home, Josh attended the Hooksum Outdoor School in the traditional territory of the Hesquiaht First Nation. It was here he gained a deeper appreciation for, and understanding of, environmental education. Through traditional indigenous knowledge and modern skills he developed his respect and connection to the natural world, giving him the foundation to begin his career as a Naturalist at the Clayoquot Wilderness Resort.

Finding mentorship in local guides, Josh embarked on his next ecotourism adventure in 2003. He found himself, once again, on the front lines of flora and fauna observance; first from a kayak, to running his own remote kayak drop-offs by boat, then eventually leading scenic tours from his zodiac. Whether he was on Meares Island Big Tree Trail, the Wildside Trail on Flores Island, or floating through fields of bull kelp along the peninsula, Josh enjoyed interpreting the intricate wildness for adventure seekers from around the globe.

Having spent his life so close to the surface of the Pacific, Josh has gained valuable experience navigating the craggy shores of Clayoquot Sound. This summer will mark his sixth season with Long Beach Lodge Resort as a valued resource for marine passengers who are curious about the local history and environment.
Rare and common sightings on the coast. (L) Black-footed Albatross (C) Black Bear (R) Pacific White Sided Dolphin. Photos by Josh Lewis @FrozenFingersPhoto
His comfort on the water has enabled him to blend his work with his own passion for wildlife photography, knowing where to find and how to spot rare and magnificent moments for his camera and yours. As he gushed about the time he caught a glimpse of the decorative Crested Auklet and what is thought to be a Northern Pacific Albatross, I couldn't help but share in the excitement, as both species are not normally found in this region. His rich understanding of the land makes it come alive and allows you to appreciate the smaller species in the web.
...following the shoreline closely makes the landscape move faster, packing as much scenery and wildlife viewing into the trip as possible!
captain josh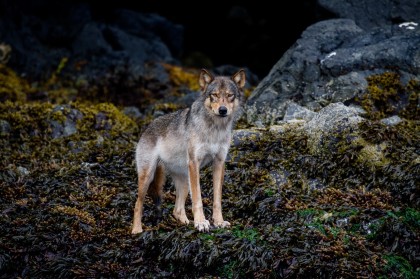 Alluding to what made his tours so special, he told me that following the shoreline closely meant the view moved faster. Perhaps this was his trick to packing as much scenery in as possible and likely why his guests raved of their excursion. I thought back to my own experience on one of Josh's tours and recalled the interesting routes, the wealth of knowledge he shared, and the abundance of unique wildlife he drew our attention to. I came away with fond memories and a full SD card.

For those of you wanting to embark on your own expedition with Captain Josh, you might find a lot of hungry wildlife this time of year. The bird colony is brimming with arriving puffins, gulls and auklets. Large eagles will be teaching the growing juveniles where to snack and young black bears will be emerging from the den, making their way to a low tide line feast with their mums. If you're lucky, an underwater giant may put on a show, as the gray whales will be coming in closer for crustaceans. Surely, you will not be disappointed!

After living on the island my whole life, I've yet to come close to seeing it all but a tour with Captain Josh comes pretty close. My local islander advice... when you reach the end of the road, just hop on a boat!

- Jill, Pilot House Media
Book a Scenic Wildlife Tour
Rare and common sightings on the coast. (Top L) Bald Eagle (Top C) Northern Fur Seal (Top R) Tufted Puffin (bottom) Orca Matriarch.
Photos by Josh Lewis @FrozenFingersPhoto