Club Culture on the Coast
We knew it all along but Sunset Magazine has discovered something special at Long Beach Lodge Resort. Inspired by the surf life in our tiny town, we've created a hub of luxury for your post-shred rituals. Come see for yourself what the buzz is about!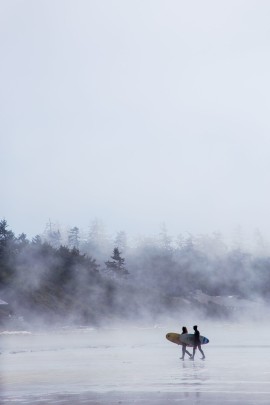 The history of surfing is easily mapped. Born of an ancient Hawaiian tradition, 'wave-sliding' caught on quickly, spreading to America, Australia and beyond. The invention of the wetsuit allowed surfers to stay out longer and further into the season, making it more inviting to those less inclined to brave the chilly waters. Popular movies, sponsorships, board designs, music, and fashion all played a roll in the evolution and expansion of "surf culture".
Where good waves can be found, it's common to find surf shops for rentals and lessons. It's these places where the surf community comes together to share stories about waves ridden, secret spots, impending swell, and gear. Our boutique resort overlooks Cox Bay, one of the top surf beaches in Canada. Knowing this, we've designed a space to amplify the full surf experience.
Treat yourself to a delightful warm-up following your cold-water session. Members have access to our spacious change room and shower facilities, cedar sauna, large outdoor soaker tub and gym equipment for pumping up or stretching out.

Read what Sunset Magazine has to say about surf clubs and our little coastal treasure:

https://www.sunset.com/travel/outdoor-adventure/surf-clubs-in-the-west
---
More Tofino 360 Stories