5 Best Ways to Catch a Cox Bay Sunset
The sun setting on Cox Bay is among the most beautiful things to witness in this world. Flaming skies upon the backdrop of storm-beaten trees, rugged terrain, and a swooping coastline that seems to perfectly capture the glow of the setting sun, is something not to be missed. How to experience it is up to you!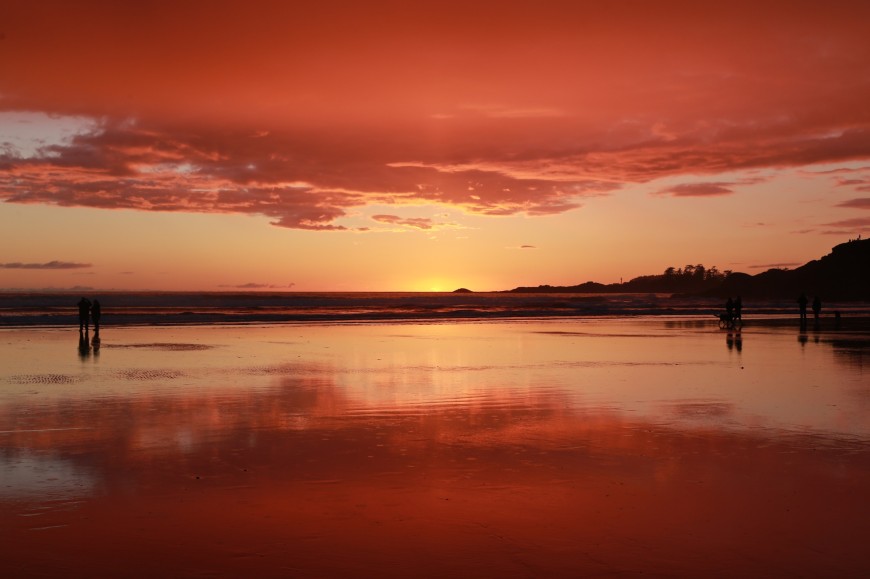 Imagine you are…
Cold feet sway gently beneath you as you float in slow motion, the horizon tipping and dipping ahead. Cotton candy skies descend upon the waves approaching, pillowing clouds mirrored in the glassy ripples around you. It's hard to tell what's up and you think for a moment that if you slid off your board, you would fall past the rainbow skies and straight into space. Sounds are muffled by your hood, your skin tingles from the salt and chill. One deep breath and a moment enjoyed before you take a final wave in as the sun sinks into the sea.
Dining at the Sandbar Bistro
Sitting down on the outdoor patio, soaking up the last soft dusks of summer. The air feels crisp on your cheeks but the golden rays of the setting sun warm them up again. Firey beams of light cast across the bay ceiling as we say goodbye to long summer nights. With the crashing waves by your side, you bid farewell to the day with laughter, snacks and fine wine.
Lounging in the Great Room
Sinking into the oversized chair, fire crackling behind you and the low murmur of holiday chatter throughout the room. There's a book on your lap feeling ignored as you can't resist gazing through the panoramic windows, the sky set ablaze. You watch as the mural evolves as though each brush stroke across the heavens was swept from a palate so vibrant, it's hard to believe it's real.
Perched in our Seaside Adirondack Chairs
With the fuzz of a warm blanket wrapped around you and friends by your side, you sink your toes further into the warm sand, finding the cool damp grains below. The tide line inches closer, teasing your feet with the threat of an ice-cold soak. The beach is blanketed with frigid waters and a warm glow. An iridescent sheen ignites the shores before the seas extinguish the flame for another day.
In the

Comfort of Your Own Luxury Lodge Room
Double doors overlooking the majestic Cox Bay below offer a private screening of the nightly performance in the sky. Take in the show from the comfort of your king size bed or curled up in the chaise next to your personal gas fireplace. Watching sunsets are most enjoyable in your pajamas. As night falls upon your patio, you sink under your duvet and rest up for the adventure-filled tomorrows in paradise.