Tofino Winterlights 2017
Brightening up the short & dusky days of December is the 'Tofino Winter Lights' exhibit from December 1st – 31st, nightly from 5:30pm – 9pm at the Tofino Botanical Gardens. Experience artistic luminescence as you meander the trails and grounds beneath shapes of lighted strings and shadows cast. Warm up with a hot beverage from their onsite eatery, Darwin's Cafe.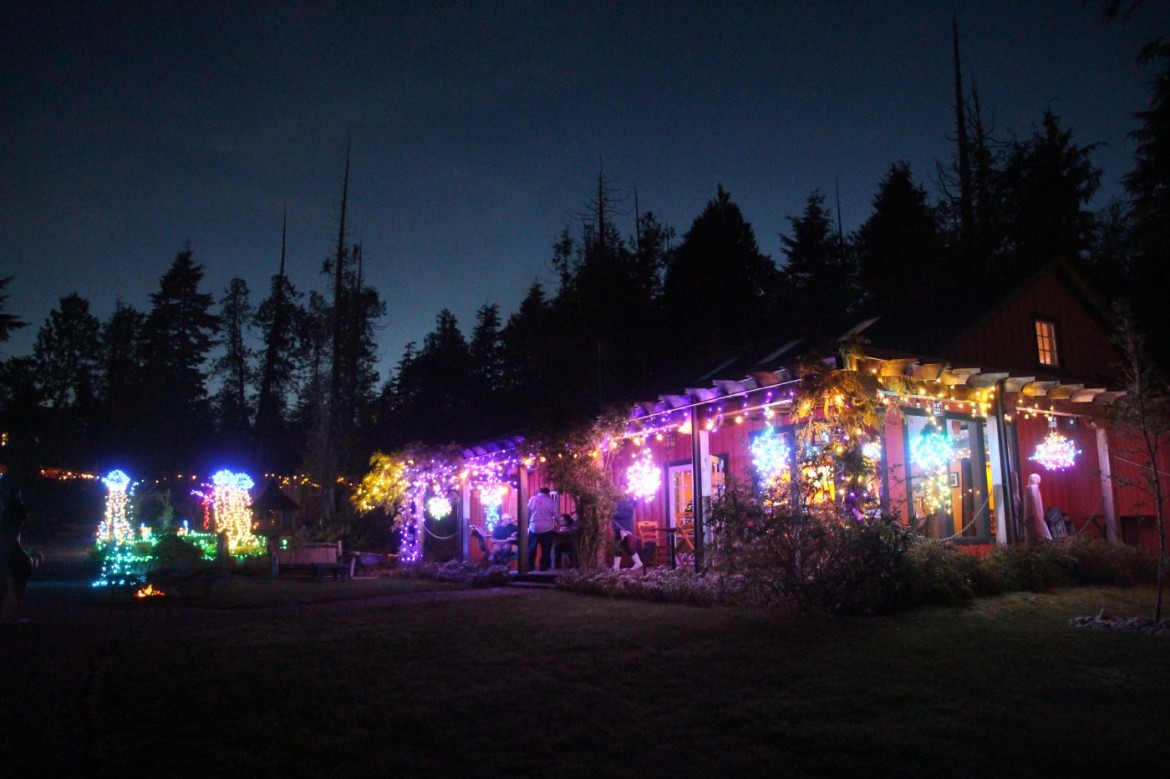 Photo by Franziska Meier
This is an annual event inspired by the dark days of December in Tofino. The beautiful gardens by day transform into a magical tour of twinkling lights by night. Take a stroll through the maze of trails leading alongside the Tofino Inlet then partake in one of their many exciting events happening throughout the month. Featuring yoga classes, poetry readings, live music and more, the gardens are alive in an engaging way.

Upcoming Events:


WINTERLIGHTS OPENING NIGHT! December 1, 2017 at 5:30 pm – 9:00 pm Tofino Botanical Gardens, 1084 Pacific Rim Hwy, Tofino, BC V0R 2Z0, Canada Catch the FREE Jingle Shuttle from 5-9pm and join us for some cookie decorating! Live Music with local singer/songwriter Erin Junkala 7-9pm

LIVE MUSIC December 2, 2017 at 7:00 pm – 9:00 pm Tofino Botanical Gardens, 1084 Pacific Rim Hwy, Tofino, BC V0R 2Z0, Canada FREE Live Entertainment at Darwin's Cafe with purchase of a Winterlights Access Pass - Pass is valid from December 1st - 31st (non-transferrable) 7 - 9pm: Flamenco Singing & Rhythm w/ Therese Bouchard & Jan Bate Classical & Contemporary Piano w/ Tony Klazek

DROP-IN YOGA December 4, 2017 at 8:30 am – 9:30 am Tofino Botanical Gardens, 1084 Pacific Rim Hwy, Tofino, BC V0R 2Z0, Canada Drop-In Yoga at the Ecolodge: Vinyasa Flow with Dede Winterlights Pass holders will receive a special $10/class drop-in rate for all Tofino Yoga classes at the Ecolodge in December!

STORY TIME December 6, 2017 at 6:00 pm – 7:30 pm Tofino Botanical Gardens, 1084 Pacific Rim Hwy, Tofino, BC V0R 2Z0, Canada Winterlights Story Time - Starting Every Wednesday at 6PMClassic winter & holiday stories read by local community "celebrities", plus puppet shows, arts & crafts, holiday treats and more!Storyteller: Cindy Hutchison

DROP-IN YOGA December 6, 2017 at 7:00 pm – 8:00 pm Tofino Botanical Gardens, 1084 Pacific Rim Hwy, Tofino, BC V0R 2Z0, Canada Drop-In Yoga at the Ecolodge: Restorative with Alys Winterlights Pass holders will receive a special $10/class drop-in rate for all Tofino Yoga classes at the Ecolodge in December!

DROP-IN YOGA December 7, 2017 at 8:30 am – 9:30 am Tofino Botanical Gardens, 1084 Pacific Rim Hwy, Tofino, BC V0R 2Z0, Canada Drop-In Yoga at the Ecolodge: Yin Yoga with Dede Winterlights Pass holders will receive a special $10/class drop-in rate for all Tofino Yoga classes at the Ecolodge in December!

POETRY READING December 8, 2017 at 7:00 pm – 9:00 pm Tofino Botanical Gardens, 1084 Pacific Rim Hwy, Tofino, BC V0R 2Z0, Canada FREE Live Entertainment at Darwin's Cafe with purchase of a Winterlights Access Pass - Pass is valid from December 1st - 31st (non-transferrable) 7 - 9PM: Alison Watt Book Reading & Poetree by Clayoquot Writers Group

LIVE MUSIC December 9, 2017 at 6:30 pm – 9:00 pm Tofino Botanical Gardens, 1084 Pacific Rim Hwy, Tofino, BC V0R 2Z0, Canada FREE Live Entertainment at Darwin's Cafe with purchase of a Winterlights Access Pass - Pass is valid from December 1st - 31st (non-transferrable) 6:30 - 7pm: Therese Bouchard & Local Drumming Group 7 - 9pm: Esther Celebrini - Jazz Piano & Vocals