Polar Bear Plunge: You're Freezin' for a Reason
Honored by many, it's an annual activity that symbolizes a brisk new start. Kicked off in the early 1920's, Vancouver's English Bay Polar Bear Swim is said to be one of the oldest and longest running. This popular tradition is now commonly found in even the littlest of towns around the world, including our own here in Tofino.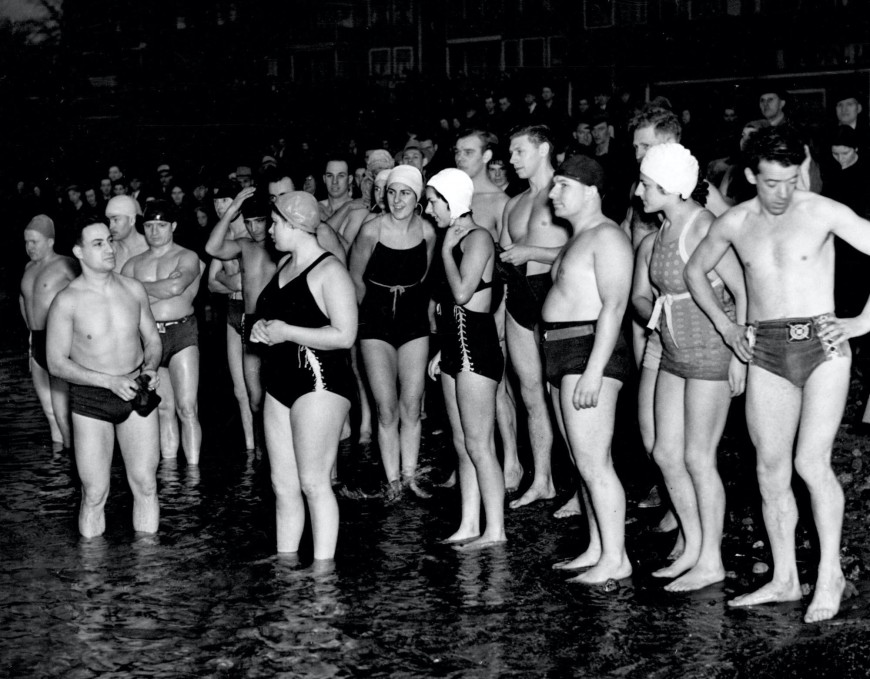 New Year's Day 1939. Archives# CVA 371-836
There are many reasons one may feel compelled to plunge into the icy waters of our coast, be it spiritual, health, or pure fun. Regardless of your motives, it's hard to deny the benefits of cold-water submersion.
Here on the coast, our waters range an average of 6.9-9.6 degrees Celsius, making the water roughly the same temperature as the air is predicted to be on Sunday during our local swim.
How your body reacts to cold water:
The moment you enter the water, you will experience "cold shock". Triggered by cold receptors in the skin, you will have an immediate physiological response in the form of a gasp while your heart rate and blood pressure increase. Some brave folks may even experience short-term hyperventilation.
Chilly water has the capacity to reduce your body heat 25% faster than air of the same temp, leaving you shivering in an effort to generate warmth. You may last only minutes before experiencing a loss of dexterity in your limbs. This is because the fluid in your muscles and vessels are slowly starting to congeal.
Bone-Chilling Benefits:
(Include but not limited to…)
Improved lymphatic circulation
Decreased muscle inflammation
Increased cardio circulation
Boosted Metabolism
Improved mood & energy level
Helpful Hypothermic Hints:
Don't undress too soon. Stay warm for as long as you can
Bring a cold-water crew to hold towels and hot chocolate
Water-friendly footwear a bonus. Avoid injuries to your cold numb feet
Avoid bulky costumes, as they can get dangerously soggy, weighing you down
Make way for the stampede. Stick to the back of the pack if you want to take it slow.
What to bring:
Warm, loose clothing to change into
Reusable coffee mug for hot chocolate supplied by our local chapter of the Surfrider Foundation.
Host your own cold dip or join the
community at North Chesterman Beach on January 1st, 1:00pm start
.
You can then warm up those winter bones back at the lodge.
The Surf Club sauna and hot tub
will be ready for you!