Why Michele Shorter Is Changing the Way You Think
Who is Michele Shorter?
She is a multiple award winning trainer and she's coming to Town!


Michelle is a wellness advocator who encourages people to be enthusiastic about their health and longevity. Michele is an award winning business person, mother, wife and community builder with first-hand experience in the every day life juggle that many face in making time for fitness, nutrition, sleep and personal time.

As the driving force behind Body Dynamics (BDHQ), Michele and her team deliver a multi-faceted selection of programs to a wide range of clients including Outdoor Bootcamp, Baby Bootcamp, The Biggest Winner Program and two fitness studios offering personal training and specialized classes using kettlebells , monkey bars, battling ropes, TRX, spin bikes and tires for the ultimate workout.

Michelle Shorter knows first hand about the benefits of having a healthy lifestyle.
Something to brag about:

yoUnlimited Award for Health & Wellness - 2015
Business of the Year by the Greater Victoria Chamber of Commerce - 2013
BDHQ chosen as one of Douglas Magazine's
"10 to Watch"
- 2012
What is the Shorter Approach?
The Shorter Approach is focused on
getting you the long-term health results
you desire.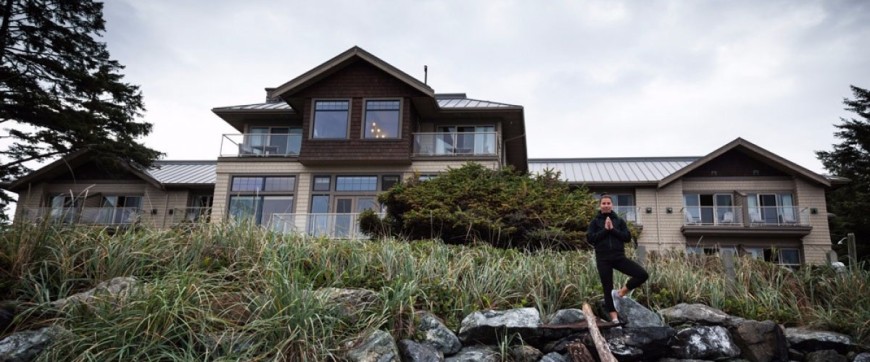 We encourage you to respect and move your body every day because it feels good. Eat healthy food because it tastes good and nourish the only body you will ever have.
Based on more than 17 years of training clients of all fitness levels and backgrounds, The Shorter Approach is about loving the process.
You get proven expertise, guidance and support to help you achieve your soul-centered goals, love yourself and live a good long, sexy life.
Experience The Shorter Approach with Michele and her team at one of her studios on Vancouver Island, or join the list to be the first to hear about how you can put The Shorter Approach to work for you through our online program.

What is the Beauty & the Beach?
Beauty and the Beach is a Wellness Retreat that Michele is hosting in Tofino on Friday, November 4
th
– Sunday, November 6
th
. This retreat is open to ALL fitness levels.
Retreat fee includes: Friday evening tapas, nourishing breakfast on Saturday and Sunday, dinner on Saturday evening as well as PJ party snacks. Boot camp workout, yoga and Pilates mat class, plus nature hike/run are also included. PLUS you'll get a workbook to guide you in mapping out your wellness action plan along with buckets of support and expertise delivered with a full heart by Michele Shorter.


Invest in Yourself, You Deserve It!
PRICE:
CAD $575 plus tax* (3 to a cottage) includes: workouts, facilitated wellness planning, healthful nutrition and guidance to help you create a take-away action plan to support you in the choices YOU want to make to nourish your beautiful body!
*additional excursion fees may apply
*private, or semi-private accommodation options available for additional charge
*Local rate available for residents of Tofino/Ucluelet not requiring accommodation.
LOCATION:
Oceanfront accommodations and west coast cuisine provided by the award-winning, Long Beach Lodge Resort, in Tofino on Vancouver Island, British Columbia.

ADDITIONAL DETAILS:

·All fitness levels welcome!

·Plan to dress in layers, pack your PJ's and bring clothes you can move in, and comfortable clothes and shoes you can walk in and possibly get a bit sandy.

·Bring a yoga mat & water bottle. (Don't have one, don't worry, we'll set you up!)

·Preferred rates are available for additional nights to extend a stay and there is a one-time fee of $50.00 to bring along a four-legged fitness pal.

·Additional fees will apply for optional daytime adventure excursion choices which may include: paddle boarding, surfing, massage and more.

Learn More about this exclusive retreat offered by Long Beach Lodge Resort!

All information taken directly from Michele Shorter's Website:
http://theshorterapproach.com/