A Great Room Inspired by Artists
Roughly 18 months prior to construction of Long Beach Lodge Resort, owner, Tim Hackett found himself within the local House of Himwitsa Native Art Gallery. He was staring at a mask so powerful, it conjured design inspiration for what would become the crown jewel of the resort. A space deservedly named after what it simply was, a really Great Room.
Tim had purchased a slice of land just north of the
Pacific Rim National Park Reserve
, along the swell-beaten shores of Cox Bay. It was a rugged plot with trees and a single dwelling. It was from the roof of this cabin that he saw it. THIS was the view he had to share, this would be the view from the Great Room!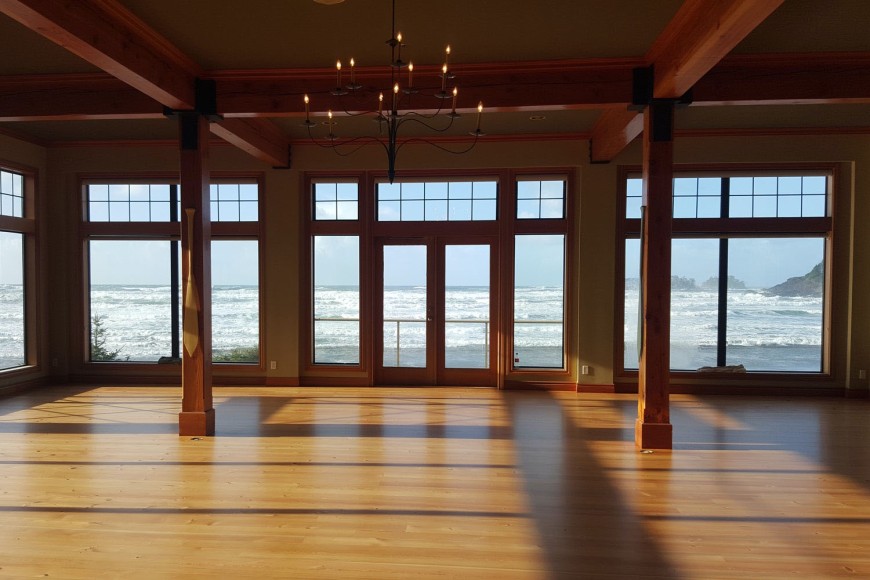 Back in the gallery, it was the Raven Mask that caught his attention; a prominent, hand-carved piece by Chief Billy George Jr. Tim had visions of a bold room that created a sense of wonder and connection to the natural world. Symbolizing creation, knowledge, and prestige, the raven was a powerful statement piece to design the space around. With panoramic views of Cox Bay, the Great Room is a gallery of community culture and wild splendor.
When entering the dining room, you're greeted by a distinctive totem. A closer look at the transformed wood, you can see the attention to detail, each groove and edge tooled by hand reveals the patient evolution from raw log to statue.
A tour of the Great Room showcases the diversity and skill of our local carvers. Each piece is inspired by the local lands we live and rely on. It's hard to deny the energy expressed by the art and the room. You just have to experience it for yourself!
Photos: Josh Lewis + Jill Nancy Photography