By Airport and Internet: Tofino is closer, faster
Big investments bring big changes to the Tofino enhancing travel, online communications.
By air and by Internet: big upgrades and enhancements make Tofino more accessible and more user friendly for visitors and businesses considering Long Beach Lodge Resort.
Over the last several years over $3.8 million in renovations and upgrades have been made to the Tofino Airport (YAZ):
A new airport terminal which has Wi-Fi, seating for 25 passengers, restrooms and vending food service.
The primary concrete runway, which offers both IFR and GPS approaches, has been completely resurfaced and is 5,000 feet long and 100 feet wide.
The other two runways (useful in non-typical wind patterns) have 5,000 foot concrete surfaces and IFR approaches.
Thanks to the upgrades, the Tofino Airport can now handle nearly all types and models of private jets and commercial propjet aircraft. This allows for direct access from most points in North America.
Speaking with the
Alberni Valley News
for a July 2, 2015 story, Alberni-Clayoquot Regional District airport superintendent Mark Fortune said many of the renovations have been rolled out over a period of time and that the airport, which handles 20,000 passengers per year, is now a top-notch facility, capable of meeting most visitor and aircraft requirements.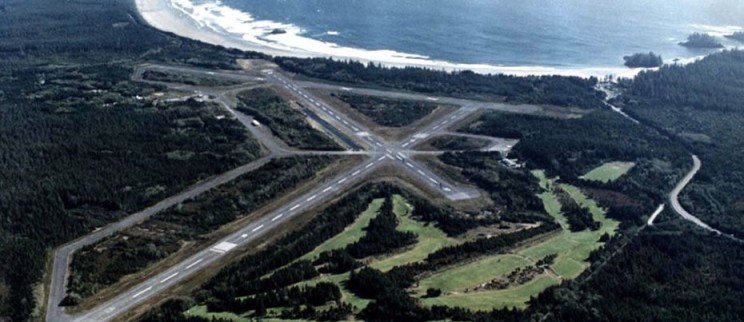 "We've been very successful," Fortune said, but added that it's taken around a dozen years for all the upgrades to be completed via the Airport Capitalization Program. "We had our primary [5,000-foot] runway ground down and re-asphalted ... that was a $3.8 million project."
According to Fortune, the investment has produced results.
Since the upgrades, finished in 2012, traffic has increased by more than 1,500 flights, from 4,549 in 2012 and 6,081 in 2014. He told the
Alberni Valley News
2015 is on track to be as busy as 2014.
Fortune said the biggest bump has been in scheduled flights: "We've definitely seen a huge increase in scheduled traffic."
Fortune attributes this to Tofino's standing as a premier tourist destination and meeting an already pent up need for better air access to the region: "You've got a natural draw—you've got the UNESCO biosphere zone, you've got Pacific Rim National Park, there's fishing, there's surfing ... there's a bunch of draws in this neck of the woods."
While more visitors are discovering the easy access via air, there is great anticipation among residents and visitors alike as they see the progress being made installing fibre optic cable along Highway 4 to provide broadband Internet to Tofino, the resorts and the many tourist destinations.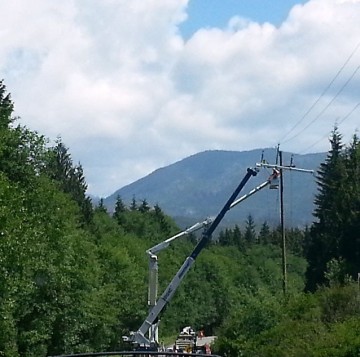 Late last year it was announced that high-speed fibre optic Internet would arrive in 2016. The project, expected to cost roughly $13 million, involves BC Hydro replacing over 300 poles along a roughly 65 km stretch of Highway 4 so Telus can string fibre optic cables. Work started this spring and initial estimates had the installation complete by Sept. 30 2015. Assuming everything goes to plan on BC Hydro's end, Telus expects to have the west coast connected to fibre optic Internet by early 2016, according to Telus spokesperson Liz Sauve.
"Internet connectivity is increasingly essential in today's world, and that's why projects like this one, made possible by a collaborative partnership between the Province, TELUS, BC Hydro, and All Nations Trust Company, are so important for British Columbians," said Technology Innovation and Citizens' Services minister Andrew Wilkinson.
"This new connection will have a lasting impact on the west coast of Vancouver Island, bringing better service to the families and businesses in the region." Sauve said the $10 million investment was an important one for Telus to make because the company has run out of room for new customers on the west coast.
"Our services out there were at a point where we were managing them for all our existing customers and that capacity wasn't there for all of these new customers," she said.
"It's going to enhance the speeds currently available and it's also dramatically increasing the capacity ... That means the congestion is going to be alleviated and then we can offer our services to more customers and everyone is going to have access to faster speeds."
Sauve said fibre optic technology will help local businesses "operate locally while competing globally because they're now going to have access to super-fast Internet," and added the west coast's tourism industry will greatly benefit from the capacity increase.
"Now that industry can offer their guests high speed Internet during their stay which is really critical. Everywhere you travel these days people need to stay connected whether it's because they need to touch in with work and check on some emails or they're working remotely or they want to stay in touch with friends and family," Sauve said.
For business conference and business retreat clientele considering the Tofino region and Long Beach Lodge Resort, fast broadband Internet access is crucial. As is the easy access, modern airport and facilities.
Combined, businesses can quickly and easily retreat to the Resort for days-long conferences and remaining in-touch and in-control while enjoying the beauty of Pacific Rim National Park, Cox Bay, Tofino and the luxury of Long Beach Lodge Resort.
comments powered by

Disqus